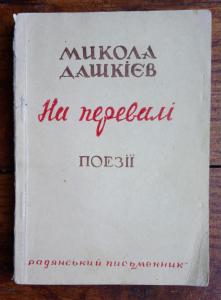 Дашкієв Микола На перевалі. Поезії Київ: Радянський письменник. 1948 128s., binding type: paperback.
Category: Book, journal, almanac
Rubric: Ukrainistics; Poetry XX-XXI centuries.; WW2 The Second World War, 1939-1945.;
Place of origin of goods: СССР
Language: Ukrainian
Description: Дебютна книжка українського радянського письменника-фантаста, поета, перекладача містить вірші, написані під час Другої світової війни. Наклад 5 000. Формат зменшений: 10 х 14 см.
Status: добрий, пошкодження, втрата фрагментів корінця, передня частина обкладинки відклеїлась від блоку
ORDER FORM
Marked with * is required