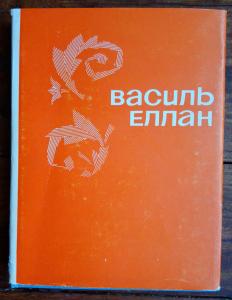 Еллан (Блакитний) Василь Поезії Київ: Радянський письменник. 1967 180s., binding type: hardcover.
Category: Book, journal, almanac
Rubric: Ukrainistics; Poetry XX-XXI centuries.; Satire and humor;
Place of origin of goods: СССР
Language: Ukrainian
Description: Вступна стаття А. Недзвідовського. Книга вибраних поезій політичного і літературного діяча 20-х років ХХ ст. складається з двох розділів. До першого ввійшли вірші громадянської та інтимної теми, до другого - пародії, літературні нотатки та сатира. 1 вклейка з портретом автора. Наклад 16 000. Суперобкладинка. Формат зменшений: 11 х 15 х 1 см.
Status: дуже добрий
ORDER FORM
Marked with * is required