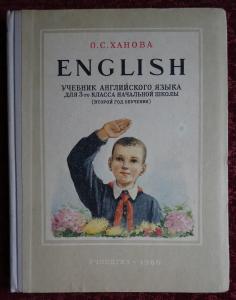 Ханова О. С. English. Учебник английского языка для 3-го класса начальной школы (второй год обучения) Москва: Учпедгиз. 1960 212s., binding type: hardcover.
Category: Book, journal, almanac
Rubric: Textbooks and tutorials for various languages; Textbooks and manuals; Books in other languages;
Place of origin of goods: СССР
Language: English, Russian
Description: Издание шестое. Тираж 15 000. Чёрно-белые иллюстрации. Формат: 17,5 х 22,5 х 1,2 см.
Status: хорошее, незначительная потёртость краёв переплёта, подпись предыдущего владельца в трёх местах, пометки карандашом в тексте одного упражнения, пара небольших чернильных пятен на полях
ORDER FORM
Marked with * is required