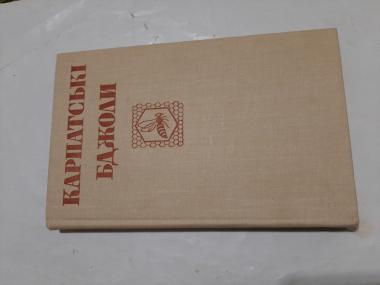 Аветисян В. і др Карпатські бджоли Ужгород: Карпати. 1982 222s., binding type: hardcover.
Category: Book, journal, almanac
Rubric: Agriculture;
Place of origin of goods: СССР
Language: Ukrainian
Description: У довіднику на основі узагальнення наукових даних і виробничого досвіду висвітлюються питання утримання і розведення карпатських бджіл, боротьби з їх хворобами та шкідниками,економіки й організації бджолярських господарств. Дається характеристика медоносних рослин, продуктів бджільництва. Особлива увага приділяється пакетному бджільництву. Для спеціалістів бджільництва, колгоспних і радгоспних пасічників, широкого кола пасічників-любителів.
Status: хорошее
Description of seller: Пересылаю Укрпочтой, Новой почтой по предоплате на карту Приватбанка, или наложенным платежем. Номер телефона 0678742527, 0934826417 Ел.почта [email protected]
ORDER FORM
Marked with * is required